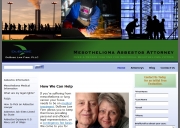 Texas Mesothelioma Lawyers
The Dallas mesothelioma lawyers at DuBose Law Firm have successfully represented hundreds of client suffering from Mesothelioma over the past decade. They work closely with each and every client, advising them of their treatment options and legal rights.
Founder Ben DuBose is a nationally known for his investigative work also nationally known for investigating the asbestos content of mud additives used during oil drilling and the exposure that employees endured while working on those rigs in Texas, Oklahoma, Louisiana and the Dakotas. He has represented the immediate family of victims who were exposed to asbestos at work and brought it home on dust in their clothing and exposed their children and loved ones.
Health experts around the world estimate that the number of mesothelioma and other asbestos-related cancer deaths will reach 60,000 by 2030 and 250,000 cases of malignant mesothelioma will come about within that time period.
Mesothelioma attacks the linings of your heart, lungs, and abdomen. Even though mesothelioma is not as common as other forms of cancer, it's just as deadly. With approximately 3,000 individuals diagnosed with mesothelioma each year, how many is too many? Cancer researchers have found that mesothelioma can lie dormant within the person exposed to asbestos for as long as 40 to 50 years before presenting symptoms.
This Texas Mesothelioma Law Firm will work to help you take care of your worries and help you file a claim regarding your mesothelioma. They will work to provide you with peace of mind in the midst of a difficult situation. Contact the DuBose Law Firm to have your case evaluated.
Address:
5646 Milton Street, Suite 321
Dallas, TX 75206

Phone: 214-389-8199
Fax: 214-389-8399
Toll Free: 877-857-2914

---
Mesothelioma Lawyers Near Dallas Texas
Dallas Texas Mesothelioma Attorneys
Dallas Mesothelioma Lawyers
Dallas Mesothelioma Law Firm
Mesothelioma Law Firm in Dallas
Mesothelioma Law Firm in Dallas Texas
Texas Mesothelioma Law Firm in Dallas
Find a Mesothelioma
Lawyer Near You
Nearby
Mesothelioma Lawyers
Claim Listing
Does this Mesothelioma Lawyer listing belong to you or your company?